A mobile app can close the gap between you and your customer creating opportunities to attract new customers and bring regular customers back to you again and again.
We start every mobile app development project with a thorough examination of your business model, what you hope to accomplish with your app and then we develop an approach that will fit the need of your business and your customers.
Mobile App Development Packages start at just... $275!
---
Mobile Apps have become more familiar to consumers and many businesses can be well served by the use of a well designed, well managed mobile app. Are you one of them?
---
When we start out with a Mobile App client we start by asking a few critical questions.
1. How will your app serve your customers?
2. How will your app support your business model?
3. Who will manage your app to make sure it lives up to its promises long term.
You would do well to ask yourself those questions. If you come away with positive answers to all three, we should talk. Mobile Apps can be an ideal solution for restaurants that offer special deals, loyalty cards or reservations. They can also well serve news outlets, any business that takes appointments or has a need to push occaisional notifications to their customers.
There are 4 general categories of features in the Mobile Apps that we offer. We will help you determine which of these features will fit your needs and the needs of your customers.
CONTENT RELATED FEATURES
Content related features provide your customers access to information. These features can be customized to create the solution you are looking for. For example, with the video gallery feature we can pull in training or product explainer videos that help your customers better utilize your products and services. An Audio Gallery might be used to provide access to your podcast.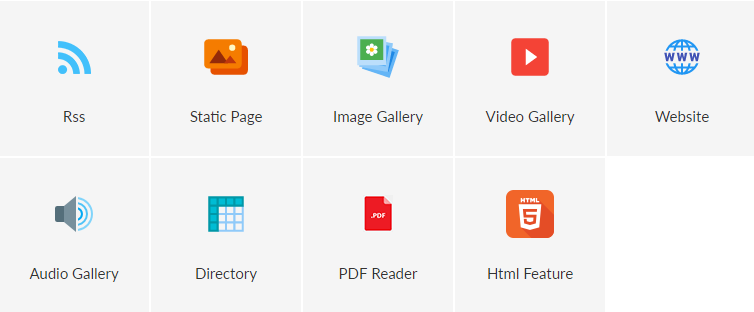 REVENUE BASED FEATURES
Revenue based features are designed to help you generate new sales.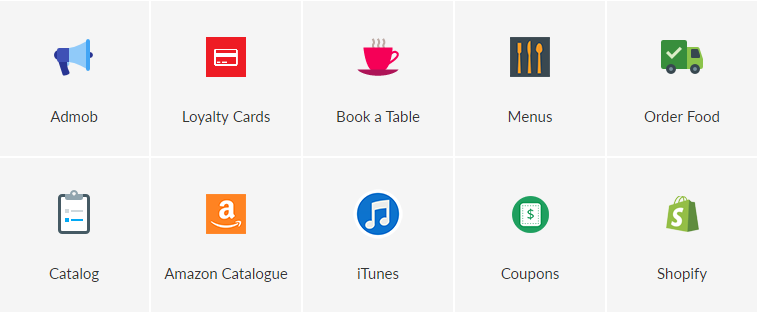 INTERACTION BASED FEATURES
Providing your customers with a simple means for interacting with your business will drive new sales opportunities and foster loyalty. Push notifications, when used responsibly, are one of the most effective ways a business can instantly bring their customers back to them over and over again.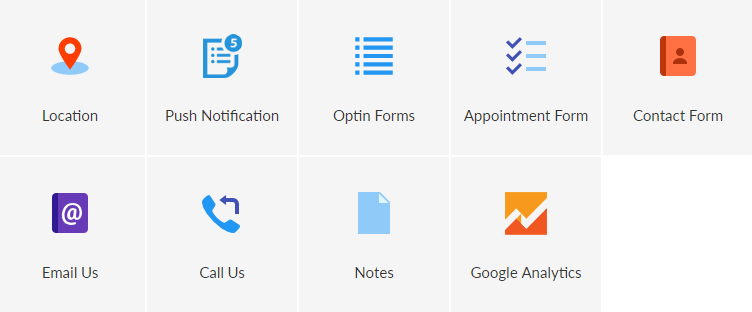 SOCIAL INTEGRATION FEATURES
With social integration features you can allow your mobile app users the opportunity to connect with you on a variety of platforms all in one place.

We also offer bundled services to include SEO, video development, text message marketing, email list marketing, direct mail and mobile apps. Don't worry, we will help you decide what will most likely give your business a return on investment.
All Mobile App Packages include a thorough consultation and training on how to manage the app to achieve the desired goal. When we create a Mobile App for our clients we carefully discuss the use of the app, how to market it to customers and most importantly, how to manage it so customers download and use it long term. A Mobile App is no good unless it's being used.
The development rates listed below include pushing the mobile app to the Google Play store for Android devices. IOS (Apple) Development and submission is an additional $100.

Push Notifications + Contact + Location
Go Live in: 3 to 5 business days after receipt of all materials from client

The Simple App Package allows a business to easy send out push notifications directly to their customers cell phone. It also includes basic business contact and location information (if applicable) and branding (business logo or related photo). Push notifications, when used properly, are a valuable tool for a business and can be a useful service to customers.
- The monthly fee for a Simple App is $29. Support is provided through our online ticket system.



Contact+Location+2 Additional Features
Go Live in: 5 to 14 days after receipt of all materials from client
The Standard Mobile Apps Package provides the basic contact and location information (if applicable), business branding and 2 additional custom features. Push Notifications are offered on the Standard Mobile Apps Package at no additional cost.
- The monthly fee for a Simple App is $39. Support is provided through our online ticket system.
*Additional features are available at a rate of $100 per feature.

---

Are you ready to get started?
Request your free, no obligation consultation now
or just give us a call at 229-234-2553